David Horowitz Big Agenda
David has done and excellent job of painting how we were about to be taken over by the Altra Left (liberals) in America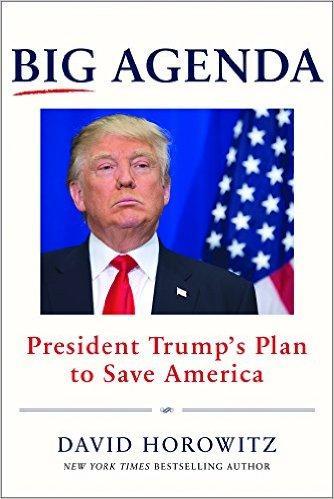 Book Review: David Horowitz's Big-Agenda
The Big Agenda- Trumps plan to save America.
David has done and excellent job of painting how we were about to be taken over by the Altra Left (liberals) in America
Donald Trump's victory in the 2016 election was more than a historic upset. It was the beginning of a major political, economic, and social revolution that will change America — and the world.
Big Agenda details President Trump's likely moves, including his:
• First wave of executive orders — restoring Guantanamo, Keystone XL, nixing amnesty
• Surprising judicial appointments — Supreme Court and the federal judiciary
• Radical changes to federal rules & regulations — Obamacare, EPA overreach, and a New Deal for black America
Quotes:
"No president since FDR and his famed '100 Days' has the chance Donald Trump has,"
"One battle is over, but there are many more to come.
Big Agenda is great information to understand how we got here with Donald Trump as President.
Amazon Ads for David Horowitz books
Amazon Books
Remember you are leaving this site and going to Amazon for all products and purchasing. This requires your Amazon Login. No data is collected at this site. Also your purchases through this site helps to continue my maintenence and blogging of USAlive.taday


Amazon Kindle
0
David Horowitz -Big Agenda
Do you think David Horowitz in right on with Big Agenda
Summary
David Horowitz -Big Agenda well ahead of the game and very useful in the current day politics and Trump.
Hits: 340